Cabinet Isegoria Conseils
Presentation
Our values
We advise and support our clients, national and international, both in terms of advice and litigation.
In a world where negotiation is to be considered ahead of a contentious resolution of a dispute, we leave the place at first in the negotiation, in strict compliance with the interests of the Client while directing us, in case of impossibility of non-contentious issue towards a resolution of the dispute before the competent jurisdictions in adopting the most effective strategy.

The Office
Introduction
Maître Zoubaïda BOUZOU bénéficie d'une solide formation et d'une forte expérience qui lui permet d'établir une relation personnalisée avec chacun de ses clients.
Maître Zoubaïda BOUZOU intervient notamment en droit commercial et des affaires, en droit de la propriété intellectuelle, de la consommation et de la concurrence, en droit immobilier et en droit du sport. Elle intervient également en droit du travail, en droit de l'environnement, en droit de l'énergie, en droit des personnes et du patrimoine.
Cet exercice professionnel nécessite des connaissances juridiques, théoriques et pratiques, ainsi qu'une bonne maîtrise de l'institution judiciaire. Ainsi, Maître Zoubaïda BOUZOU, titulaire d'un Doctorat en Droit, a reçu une formation universitaire complète, en suivant notamment des enseignements approfondis en droit européen et en droit international (Académie de Droit International de La Haye, Institut Européen de Florence...).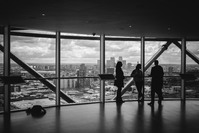 The lawyer's missions
Here to Advise You and Assist You
Maître Zoubaïda BOUZOU assure auprès de ses clients un rôle de conseil et de représentation en justice en leur apportant la compétence et la réactivité indispensables à leur information et à la défense de leurs intérêts.
Maître Zoubaïda BOUZOU s'efforce de créer une relation de confiance et de transparence avec ses clients pour mettre en œuvre la meilleure stratégie possible, et lors de litiges, défendre leurs intérêts avec ténacité et efficacité.